FROGS AVAILABLE FOR ADOPTION
None available at this time. Please inquire with the rescue below for other frogs available, or to give up your frog on the east coast.
SUCCESS STORIES!
These frogs have all been adopted and placed into new, loving homes. With the help of this website and the online Yahoo discussion group, Froggy Friends, these adoptions might not have been possible. But most importantly, if it wasn't for the volunteers who have a passion for these frogs then they might not have gotten a second chance. A huge thanks to everyone who helped get these frogs into forever homes.
* A special thanks to Mac Cardwell for donating 30.00 to the ACF Rescue and Adoption Center! Just in time for the holidays and helped to get the two foster frogs, Big-Clock and Swimmy, a special christmas treat and to raise awareness for a new home! Thanks so much!
*a super-huge thanks to Jim for donating 50.00 to the ACF Rescue and Adoption Center! His thoughtfulness could not have come at a better time, because another frog was in need of shipping to a foster home. His donation was able to cover the cost of shipping. We thank you!
*a special thanks to Diana for donating 25.00 to the ACF Rescue and Adoption Center! The frogs are so thankful to know there are such caring and wonderful people in the world.
*a special thanks to Lisa for donating 5.00 in memory of Lulu to the ACF Rescue and Adoption Center. These frogs need rescuing as much as any other animal, and we at the adoption center are so thankful for such caring people in the world.
| | |
| --- | --- |
| | If you can not adopt or foster a frog but still want to help the ACF rescue then consider a donation! Every penny goes toward their care and matience. The most important items the rescue needs are replacement filters, activated carbon and zeolite, floating pelleted food mixes, aquarium salt, stress coat and koizyme! Your donation helps make African Clawed Frog Rescue and Adoption available to any frog who needs a second chance. Thank you for considering a donation. |
African Clawed Frogs that were given a second chance due to rescue and adoption!
Swimmie and Big-Clock, sisters, have been adopted into a wonderful home as a class pet for 4th graders at a private school for the gifted. They continue to amuse their youngest fans with their antics and friendly begs at the surface for food.
Cutie has been adopted to a wonderful forever home! He lives in a big tank with many frog siblings, including Barret and Browning (listed below). A big special thanks to Jaclyn to chosing adoption again!
Happy has finally made it to his forever home! He was adopted by a wonderful woman named Lisa and lives in a tank with 3 frog brothers. His new home was well worth the wait.
Barret and Browning have now arrived at their new forever home! They have been adopted by Jacyln and are now living in a 40 gallon tank with 3 other frog siblings. These two frogs are so thankful that there are wonderful people out there willing to give them a second chance.
Peanut and Snookers have found a wonderful home with Joanna. They even have a new frog sister named Kelly! They are so happy to have finally found their forever home, and never have to be put back in a shipping box again :)
SHELBY was the ACF stuck in the fish bowl for 5 years. She has been adopted and given a wonderful home and a name :) Thank you Rob for opening your home to a frog in need.
SURFER has been adopted by a wonderful woman in NY. He warmed up to his new surroundings almost instantly. He sings all the time and eagerly takes food from his new "frog mom's" fingers. He even lets her hold him! This was a match made in heaven, and is what rescuing and rehoming frogs is all about. A large thanks to Connie for welcoming Surfer into her family!
CHUKU has been adopted into a great home! He lives in a spacious 60 gallon tank with new froggy brothers and sisters. I am so glad that he made it to a forever loving home. Thanks so much Cathey for adding him to your frog family!
Blyn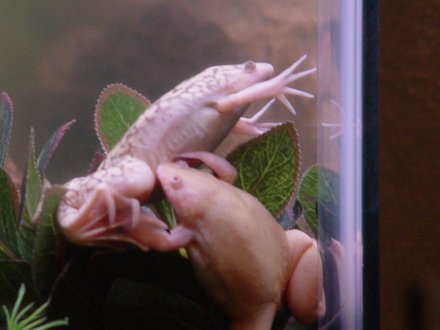 Blyn is now in his new home in NC, with his big sister Nadi, a reticulated albino
Misty the frog from NYC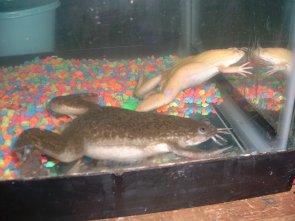 "Froggie", now renamed Misty, has gone to her new home in Queens with three other froggy siblings
Gilligan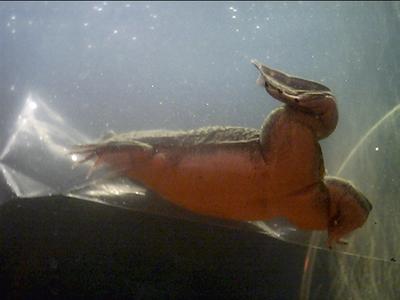 This frog has been adopted into a wonderful home and is now living with 3 other frog siblings.
Hershey
This frog is now placed in a wonderful, loving home and everyone is so happy!